Italy's VILLA REALE seeks market entry into India
India is all set to be embraced by the Italian giant Licata, with their lines of vegetables and seafood preserves branded as "Villa Reale". For more than 20 years, the Licata Company has been producing high quality traditional Sicilian foodstuffs and fish, following the authentic culinary customs of the region and conserving the freshest ingredients without the use of artificial additives, preservatives or colouring. Stuzzichi and Mamma Sicilia, are their other promising brands. Mr. Andreas De Rosi, Area Manager, Villa Reale India, spoke to FII about the company and it's plans ahead.
More than 150 kinds of gourmet preserves are found under the brand Villa Reale. The product lines include canned vegetables, pate & gourmet pastes, ready made sauces & tomato sauces, seafood, marmalades, sweet creams, spreads, olive oil and other products. Beholding the tradition as their inspiration, innovative technologies, high hygienic sanitary standards with deft technical specialization, are incorporated into it's production. Besides USA, Canada, Germany, France, Spain, Poland and some others like Hong Kong, India is now also on the list of Villa Reale's target markets where the market entry is currently organized.
In order to answer the market needs, the company has recently built a new factory with high technology machines located in the heart of the Sicilian countryside. "Talks with the potential importer for the Indian market are on. We would like to see our entry in April, 09," De Rosi says. He informs that the owner of the company, Mr. Paulo Licata, has already participated in various food fairs in India since early 2008. "We are seeking a 3 year contract with the importer. Initially, we are launching 30 products of Villa Reale through the top hotels and restaurants like The Taj Group of Hotels, Oberoi Hotels, Diva Restaurants, etc.
After 3 years, depending on the market response, there might be a possibility of starting our own retail store or collaborating with a few high-end stores," De Rosi adds. He is aware that there is already Italian competition like Montanini and Barilla in the market, but he highlights the advantages of Villa Reale when he says that "the company would holds it's ground firmly on the merits of biological home made products, which would be much more appealing to the Indian consumers". Rosi further intimates, "the prices have not been decided as yet, however the introductory prices would come with a discount. Marketing strategies and advertising also needs to be worked out, which would be in place in about 2 – 3 weeks time. We have kept a sales target of approximately €10,000 for the period of first 6 months."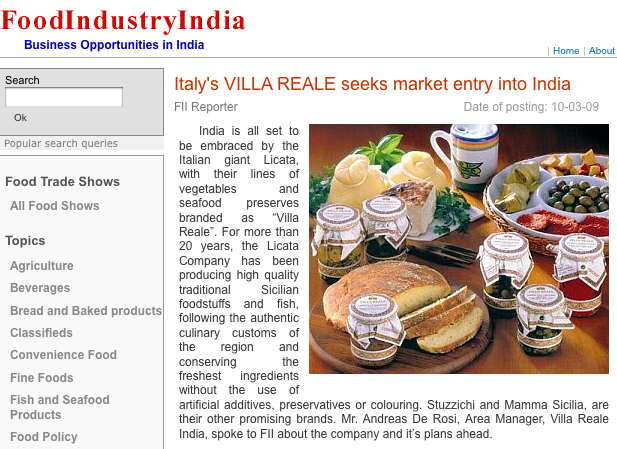 Source: Food Industry India